slide 0
Uber of Education
We provide you a data-driven platform on which teachers, students, parents and content developer/publishers join hands to make students and teachers successful. With world-class analytics, courses and practice tests, possibilities are endless. We truly believe that a student's success is a combination of not only academic achievements but also academic personality.
slide 1
Just add students
Rest all is here. Be a true partner in the success of your students using data/analytics because they will bring more students to you. We not provide you a complete learning management system but also teaching materials & courses so that you start instantly. The best part - it is totally free.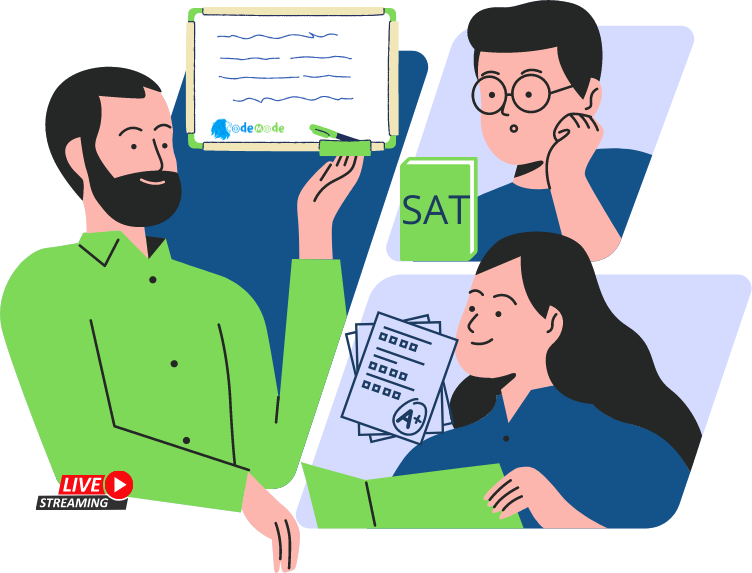 Slide 2
Coding Journey starts here
We are enrolling Python and AP Computer Science A (USA) stuents. With our unique model of teaching, we have made difference in thousands of students who really learned not only coding but also probelm solving skills. We truely believe in practice based learning and real-time support to ensure you make progress.
Slide 4
Ace ACT and SAT
The perfect or high score is not only dependent on academic excellent but your strategy, your personality and habits. With data-driven techniques, CodeMode helps you improve your time management skills in standardized tests, make you aware of strengths and weakness and recommends techniques to overcome your bottlenecks.
Slide 3
Get help when you really need
Students need timely help, especially when they are stuck. Teachers need help in setting up course or taking assessments. We provide unlimited help to ensure you are successful. Our round the clock help model clubbed with a strong community help you when you need most.
The Simplest Learning Management System
Publish and sell Assessments, Test Series and Courses in our marketplace. Earn
while you help brilliant students.
Be more involved in your child's education & help actively. Set goal and track your child's day-to-day perfromance.
Know your academic personality because data tells you a story. Success is more than academic excellence. Practice to master skills.
Be a true guru. Teach, assess, build data driven strategy and personalize your teaching. Tools at your disposal to save time and add more successful students to your portfolio.
We offer an innovative, practice based learning model, a data driven platform and superior support system.
Trusted Content
Our team researches syllabus of the target examination/grade and prepare learning content appropriately. This includes top examinations, Math, Coding and various other type of subjects. You can use out of box or create your own. Need help? Our team of experts can do it for you.
Practice Test Series
Practice is key. Whether it is SAT or Coding, we keep practice at the core. The concepts will stick to student's mind only after due practice. Each lesson comes with several practice sheets. Your teachers assess your performance and guide you. The level of data we capture in each of your practice will amaze you. Let data tell you a story.
Timely Help & Support
We take pride in onboarding and ongoing support. Our experienced team members are available to answer your questions and ensure you have minimal learning curve. We not only provide platform support but also can feciliate data entry tasks for quick content development. We regularly conduct webinars and Q&A sessions.
Course Authoring
The teachers can use our super easy course builder to create courses with texts, images, coding, video, documents. Each course can be customized using settings to suit your teaching style. Students use built-in video player, progress tracking, quizzes and assignments to finish the course and truly learn.
Data & Analytics
We use our home-grown online Learning Management System to track a Student's progress. We proudly use analytics to pinpoint areas of improvement as well as areas of strength. Students and parents can check progress online anytime, anywhere.
Effective Collaboration
While learning, you are not alone! At every step, you get the support you need to excel. You will be part of a healthy, thriving community of peers who are learning and supporting their fellow learners. Have a question? Post and get an answer immediately from a peer, mentor or your teacher.
Proctoring
Want to take real-time tests/assessmnts? We got you covered. With on-deman video based proctoring, you can mimic real-time tests online and prevent frauds and unfair means. You will be able to employ additional security measures to ensure assessments are fairly conducted.
Engaging Classrooms
Our typical classroom size is between 5-6 students. By keeping classroom size small, we are keeping students engaged, personalized and result-driven. You will have plenty of opportunities to ask questions, clear your doubts and know each other.
Coding Engine
Our platform comes with coding engine to create coding assessments and courses in various programming languages such as C, C++, Java, Python, Ruby etc. We also provide an online code editors for students and teacher to play, experiment and run code snippets.
Administration
CodeMode provides several administative features to manage your courses, curriculum, students and teachers (when you have an insitute/academy). You can run your institute completely online.
Data Privacy and Security
The data you generate including your students, courses, assessments, results are all yours. We host on highly secure Amazon (AWS) cloud and we dont sell your information to anyone.
Access on the Go
Any Content. Anytime. Anywhere. Any Device. Our mobile app allows you to study anywhere, anytime right on your own web or mobile device. Internet speed not good? No worries – we have offline mode too.