slide 1
Be partner in success
Data tells you true story. With our world class analytics solution, you will know the strength and weakness of your child including non-academic botlenecks such as time management and confidence factors. Combined with the knowledge, you can be more effective in mentoring.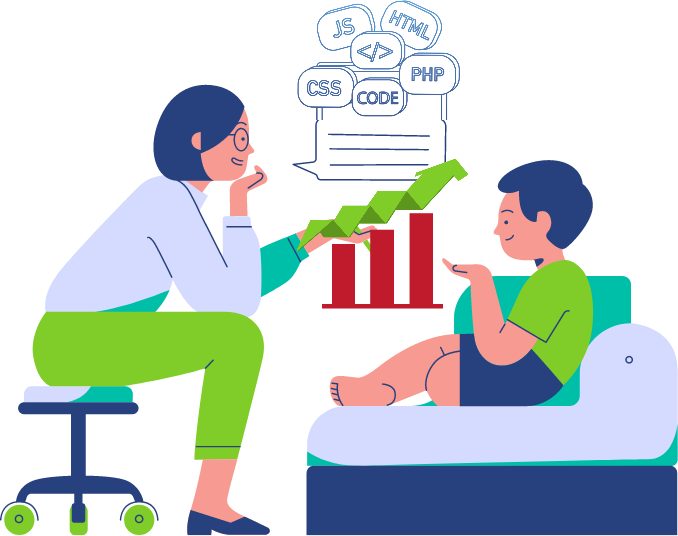 Slide 2
Set Goal and Track
If you are one of those parents who teach or ask your child to practice regularly, you can set daily goals on practice or even better, create sample tests from our pool of questions. Want to go futher, add your own questions. Possibilities are endless.
Slide 3
Get Involved
With same data which is available to teachers and students, now you can have a meaningful dialog with teachers/tutors on the performance improvement of your child's subject areas. Not only you can track recent results but also overall performance over a period of time. You get to see improvements over a period of time.
Slide 4
All in One Platform
Having more students in the family demand time and resources but we got you covered. You can bring all of your children on our platform and assess their skills, learning and track performance. You save time and energy becuase data is at your fingertips to have meaningful discussions with children.
We help you become more involved in the success of your child
Every student is different and we know from this from data on our platform.
We provide a wide range of tests including Learning, Practise, Adaptive and Proctored. The types of questions that you can set are Free Response, Descriptive, Fill in the Blanks, Coding, Multiple Choice, Single Choice, Mix and Match, and many more. You can create tests for your child from our Questions Pool. With CodeMode, your child can practice as much as needed.
Detailed Reports and Analytics
Easy analysis of your child's performance using automated evaluation tools. Analysis can be done for entire courses or individual tests. Be aware of how your child is faring and how much time they are taking to answer questions. 
Set Goals and Monitor your Child's Progress
Track your child's progress and performance on each test. See how they are scoring relative to the top performer and the average performer. Know exactly where your child stands amongst their peers.
If you don't see the course of interest of your child, you can view all courses and search. You can also request a course to be added.
We do one thing and do it nicely. Rather than teaching everything, we are focused on giving a strong programming foundation. Each course is built upon the same philosophy – learn, practice and assess.
Each course will teach small concepts, make your practice better and finally evaluate to ensure you are comfortable before moving to the next lesson/unit.
With focus on problem solving skills, you acquire key techniques, learn visualtization tools such as FlowChart, Trace Tables, Bubble Diagram etc and practice enough to master the programming language.
read more
Sign up as a parent. It takes 2 mins or less to start.
Add your child on the platform. All of your children can be on the same platform.
Worried about your children not practicing enough? Set daily practice goal for your child and measure.
Be more involved. Evaluate your child's performance using CodeMode's quesiton pool, detailed analytics and reports.
Discuss and plan the way forward with your child's teacher to achieve results and academic success.